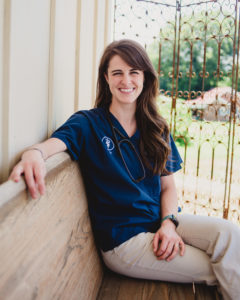 Kristin Edds – Veterinarian
Kristin Edds was born in Overton County, Tennessee and has enjoyed small town life from a young age. As a Vol For Life, she graduated from the University of Tennessee with her Bachelor's Degree in Animal Science, fulfilled a United States Army Reserve contract as a Military Police Sergeant, and then completed her Doctorate Degree from the University of Tennessee College of Veterinary Medicine.
She and her husband have been blessed with two wild and wonderful children (which you will likely see running around the office on any given afternoon). They all live in White County, together with their small herd of dogs and cats: a bird dog that hunts nothing but the couch, 1 old retriever mix that acts like a nanny, 1 obese cat that steals food, 1 barn cat that is the greatest hunter that's ever lived, and 2 lively goats.
Her professional interests include working dogs (military, police, and agriculture), geriatric/quality of life care, rescue/trauma cases, and advanced soft tissue wound healing. Outside of work, Dr. Edds's most important hobby is being a mom, and she can always be found toting a kid or two wherever she goes. She also enjoys target shooting (if you want your appointment to go over your scheduled time, ask about her favorite handgun), trying not to cry during football season, hobby farming (or rather digging their property out of the weeds so they can have their own livestock one day), being outside in general with the family, and reading a good book.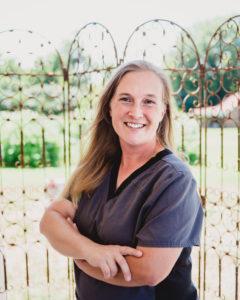 Kate Wilson – Veterinarian
Dr. Kate Wilson has joined the Bluegrass team as associate veterinarian. She attended undergraduate at Clemson University and graduated from Oklahoma State University's School of Veterinary Medicine in 2012. Since orange has treated her so well, Tennessee seemed like another great place to live!
Dr. Kate's Tennessee veterinary experience started out centered around surgery and assisting in the spay/neuter community. But the excitement and variety of general medicine called her to Bluegrass. She has found no greater place to help foster the human-animal bond than by practicing the best medicine possible in the most welcoming of small towns. Besides surgery, her specific interests within veterinary medicine are wound care and ophthalmology.
Outside of work, Dr. Kate can be found insisting that she enjoys the frustration of raising Welsh Ponies, shouting at ill-behaved dogs, or embarrassing her mother with her poor gardening skills. More recently, she is a resident diaper-changer and spit-up cleaner to her daughter Josey, born Thanksgiving Day 2020. Her partner in crime is her ever patient husband James, who is also a veterinarian. He is a helper with all of the projects she creates and the other half of the family they've begun here in Tennessee.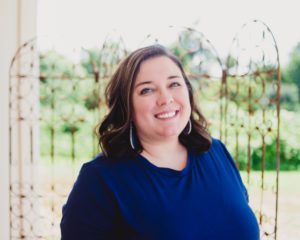 Yvonne Hendrix – Office Manager
Yvonne Hendrix started out as our clinic's front desk receptionist, but she has transitioned into an office manager position. While you'll still see her up front or hear her answering phone calls on occasion, she focuses more now on the behind-the-scenes operations of the clinic so the rest of the staff can focus on taking exceptional care of your pet! 
Yvonne and her husband, Bo, have been married since 2008 and have three crazy, handsome human boys. They also have a sweet Yorkie mix named Bear as well as a lively golden retriever named Cheezy. In her free time, Yvonne loves all things music, reading, and anything that takes place in or on the water.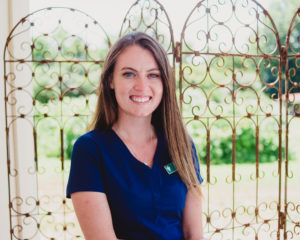 Teran Taylor – Licensed Veterinary Technician
Lead Technician
Teran is a Licensed Veterinary Technician that, like most of us, started loving and caring for animals at a young age. She has always had some type of furry critter to love on, whether it be a dog, horse, cat, or a cow. She's had them all, and often many at one time! She graduated from White County High School, went on to Motlow State Community College to study music, and then changed schools and career paths to become a Veterinary Technician. She graduated from Volunteer State Community College with an Associate's of Applied Science in Veterinary Technology, and recently passed the State Board test to become a Licensed Veterinary Medical Technician! Her work interests include: surgery, laboratory work, dental cleanings, and emergency cases.
Teran is recently married, and she and her husband live in Sparta with their 4 furry critters: 2 Quarter Horses, a blue heeler dog, and 1 rescue cat. Her hobbies outside of work include horseback riding, singing, being with family and friends, and anything outdoors.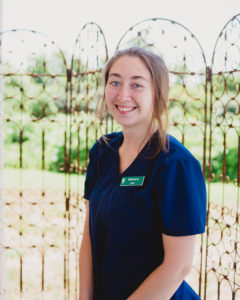 Maleena Curwick – Licensed Veterinary Technician
Maleena Curwick is a licensed veterinary technician that grew up loving and caring for exotic animals. She started out with snakes, lizards and tarantulas and continues to appreciate exotic pets. She currently has a family of three dogs, a rescue cat, a crested gecko, a salmon pink bird-eating tarantula, a Madagascar hissing cockroach, and is also breeding a huge colony of dubia roaches as feeders.
Maleena graduated from Dakota County Technical College in Rosemount, Minnesota, with an Associate's Degree of Applied Science in Veterinary Technology. Her hobbies includes hiking, fishing, kayaking, traveling, and crafting.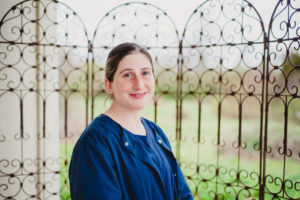 Kristine Mastowski – Licensed Veterinary Technician
Kristine is a Licensed Veterinary Technician who has had a love for animals since she was a child. She graduated high school in 2003, and started college in 2004. The local community college in her hometown was offering a veterinary technician program and Kristine applied! She started working at her first animal hospital in 2004, then graduated college and obtained her veterinary technician license in 2008. She has been working at different animal hospitals ever since 2004. She loves helping animals and keeping them safe.
Kristine has been a local girl since moving to Doyle about 5 years ago. In her spare time, she enjoys hanging out with her daughter, 6 dogs, 3 cats, and 2 ferrets. She also spends time hiking and four-wheeling or doing just about anything outdoors. When the weather doesn't allow her to be outside, she enjoys cuddling with her daughter and pups and watching movies.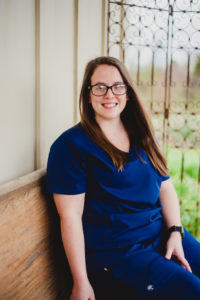 Kyrua Beaty – Veterinary Assistant
Kyrua grew up in Byrdstown, TN with 5 brothers and a sister. As a child Kyrua always loved being around animals because of the calmness they seemed to bring her. After high school, Kyrua moved to East Tennessee where she completed a Bachelor's Degree in Psychology. However, she decided to branch away from that work and pursue her desire to work with animals. After a short time volunteering at a small town clinic, Kyrua knew she had found her passion. As Mark Twain said, "find a job you enjoy and you'll never have to work a day in your life", and working with animals was that job for her. Kyrua enjoys working as a veterinary assistant because it is a challenging yet rewarding career. Kyrua's professional interests are shelter medicine/rescue cases, veterinary social work & abscesses.
Kyrua resides with her boyfriend of 8 years in Cookeville where they have 6 cats and a dog together. She enjoys going to the beach, reading books, and doing puzzles in her free time. Kyrua (as a former clogger) also enjoys going to bluegrass festivals & watching clogging competitions when she is not working.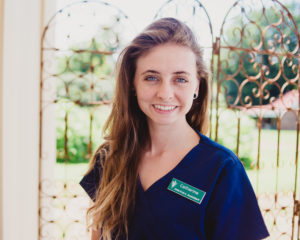 Catherine Ratermann – Veterinary Assistant
Catherine is a veterinary assistant at Bluegrass Vet. Her fascination with animals, science, and nature is what pushed into a career in veterinary medicine. This fascination with all living things began while exploring the mountains and woods of Tennessee with her parents as a child. While she dearly loves her small animal patients, she hopes to learn more about wildlife and exotic veterinary medicine.
Outside of work Catherine loves a good book, a warm drink, soaking up sunshine, a hug from her sweet fiancé, and she adores her own pets: two cats, a dog, and one very special guinea pig.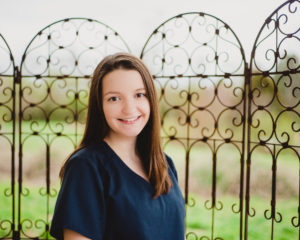 Libby LaFever – Veterinary Assistant
Libby has been with Bluegrass Vet as a veterinary assistant since September 2020. She has always had a passion for working with animals. Libby is a White County native and grew up on a farm working with her dad. This instilled in her a love of animals from an early age.
In her free time, Libby enjoys doing anything outdoors and playing with all of the dogs and animals on the farm.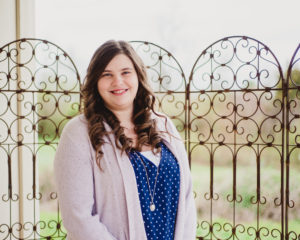 Megan Moore – Receptionist
Megan is the friendly voice you first hear when you call BVC and the smiling face you see when you walk in the building! She has been working with us since February 2021. Megan grew up in Sparta and graduated from White County High School in 2013. She has had a passion and big love for animals ever since she was a little girl, so getting to work around animals all day, every day has been a dream come true!
When Megan is not at work, she enjoys spending time with her family, friends, and loving on her family dog, Pepper the Frug (French bulldog-pug mix). She also enjoys anything outdoors, and you can often find her shooting guns, fishing, hunting, or making bonfires. Megan says she is so excited to be a part of such an amazing, outstanding team at Bluegrass Vet!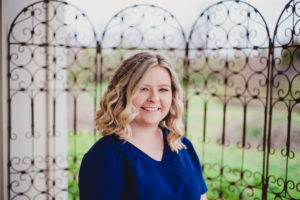 Karley Warner – Veterinary Assistant
Karley is a veterinary assistant that joined the Bluegrass team in January of 2021. She is currently a full-time student, and soon to be junior, at the University of Tennessee-Martin majoring in Veterinary Health Technology. Having grown up on a farm, Karley has always had a passion and love for animals. She looks forward to getting her degree and continuing to provide outstanding care to the animals she loves, both big and small.
Karley will be interning with the Chattanooga Zoo this summer (2021) while still assisting here at Bluegrass Vet to help keep all our patients healthy and happy!